Your Pocket Research Tooling-Wifi Digital Microscope
Ellen Hu
www.electronic-supplier.com
2015-06-02 22:20:59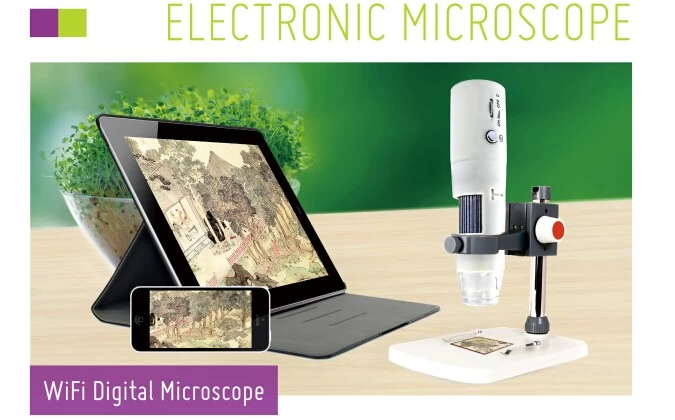 WiFi Digital Microscope which works with IOS mobile device (iPad, iPhone) and android mobile device (android tablet PC, android mobile phone). The Wifi covers a distance of 80 meters. 
Applications:
1. Textile inspection
2. Printing inspection
3. Industrial inspection: PCB, Precision machinery…
4. Educational purpose
5. Hair examination
6. Skin examination
7. Microbiological observation
8. Jewelry & coin (Collections) inspection
9. Visual Assistance
10. Others
Specification:
Supplementary Light Source: Built-in 4~ 8 White-light LEDs and dimmable illumination ensure the magnified images are clear and bright.
Focus Range: 0mm ~ 40mm(can be customized)
WIFI Standard:IEEE 802.11 b/g/n standards compliant
Still Image Capture Resolution: 640*480, can be magnified and minified
Frame Rate: VGA 20 f/s Under 600 LUX Brightness
Fixed Focus Image CMOS Sensor: High Speed DSP (M-JPEG) 
Magnification Rate: 25X ~ 200X (Manually)
Take Images: Built-in snap shot application 
Brightness Control: Manual adjustment
Power Supply: Rechargeable 7500mA self-protection lithium battery
Support O/S: WIFI capability, such as IOS and Android
Language: English / Chinese
Application Software: Android / IOS App
Illumination Scope: 0 ~ 30000LUX
Product Dimension: 142 mm ( L ) X 37 mm ( R ) Product Net Weight: 100g
Available Color: White
With your wireless wifi digital microscope,you will enjoy the pocket research,mobile officing.