Stock index rise more than 5 percent,nearly 300 shares rise 10%
selectech
www.electronic-supplier.com
2015-06-30 16:18:46
  A shares are subject to multiple positive news, stock index bottomed out rapidly elevating point after 3847, the main stock index rose more than 5 percent, close to 4300 points, the GEM rose over 6%, the two cities daily limit of nearly 300 shares.
At the close, stock index rose 5.53 percent reported 4277.22 points on turnover of 941.5 billion yuan; Shenzhen Component Index rose 5.69 reported 14,337.96 points on turnover of 721.4 billion yuan.
Disk, the whole line of the plate. Brokerage stocks soared 9 percent led by the two cities, insurance, railway infrastructure and other sectors rose more than 8 percent gainers.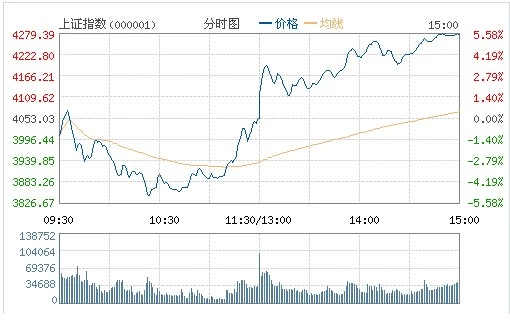 Analysts believe that with the policy aspect of the pension market to accelerate the pace, the central bank cut interest rates and other positive RRR, A shares will usher in short-term rebound.
A share will be less than half the recent slump over thousand points, a lot of stock to be cut, or alerted the management. SFC night announced that the correction is not conducive to rapid and healthy development of the stock market stable, conveys a certain extent, its important to the maintenance of stability signal, the market is expected to have three or bailout portfolio has resorted to.