Browse Categories
Subscribe
Latest News

Digital Microscope is a free Driver Product,it can be workedimmediately after connected to the computer with operation system abovewin2000 version. ...

The difference between the American standard socket and the Chinese GB standard socket: The voltage used in the United States is 110V, and its power o...

     Ben Collins, a 33-year-old accountant, and his girlfriend met a gorilla vertical middle finger while on a holiday at the Bristol Zoo in the...

Selectech, we are high quality cheap price 3d drawing printer pen manufacturer from China. Best selling high temperature 3d pen and low-temperature 3d...

Definition: A smart home, or smart house, is a home that incorporates advanced automation systems to provide the inhabitants with sophisticated monito...

New product NE-212 series RJ45 Jack keystone with Metal housing shielded

USB digital microscope is a practical and easy to use tool. With the device you can see a unique&bigger world. Really 5.0M pixel 800x-1000x digital US...

European socket standard, how to choose European power socket In 1994, in order to replace more than 20 power outlet plugs in Europe, a common standar...

November 26, 2019, Central Hong Kong, a bustling international financial center. This place, known as the third largest financial center in the world,...

USB-PDUSB-PD protocol, full name USB Power Delivery, based on USB3.1, is the power transfer concept proposed in USB3.1, ie type-c port. USBType-C is a...
Contact Us

Add:E-6F Yuetong Building,Meilong Road,Longhua,Shenzhen,Guangdong,China Tel: 0086-755-8323 4282 Fax: 0... Contact Now
International usb charger travel adapter power plugs electrical adapters ST-620
Specifications
- AC Max. Power: 100-240 VAC 6A
- Power Rate: 660W-110V/1350W-220V
- USB Max. Output Power: 5Vdc~ 2500ma
- USB Input Power: 100~250Vac
- Fuse: 6A / 250Vac (it can been changed)
- Size: 65*55*63mm
- High Power Dual USB Charging Ports 2.5A
- Universal AC Power Outlet
- WorldWide Compatibility in over 150 Countries
- Smart AC/USB status indicator
- Standard Met FCC,CE & RoHS
International usb charger travel adapter power plugs electronic adapters ST-620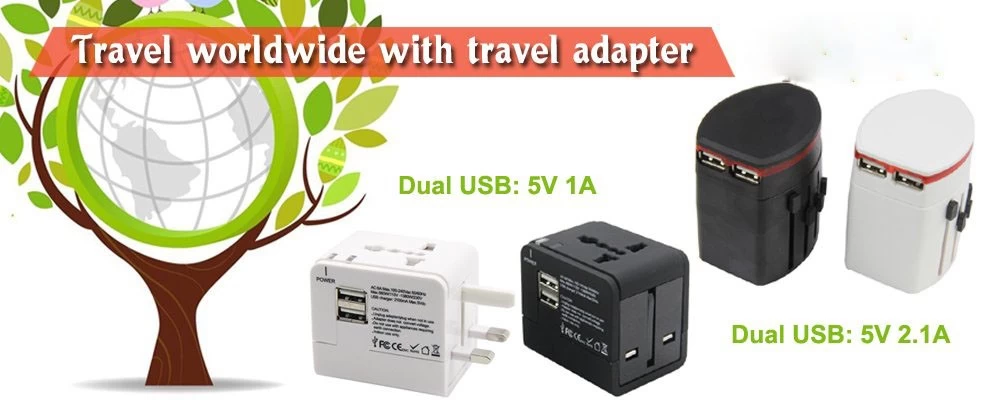 1) All-in-one plug adapters suitable for using in more than 150 countries 
2) Easy to use with slide-out power plugs
3) Compact, self-contained unit eliminates tangle of adapters
4) Adapts power outlets for laptops, chargers and similar devices
5) Safety release button and built-in fuse ensure safe operation
6) Dimensions: 65*55*63mm
7) Weight: 120g
8)Certification: FCC,CE & RoHS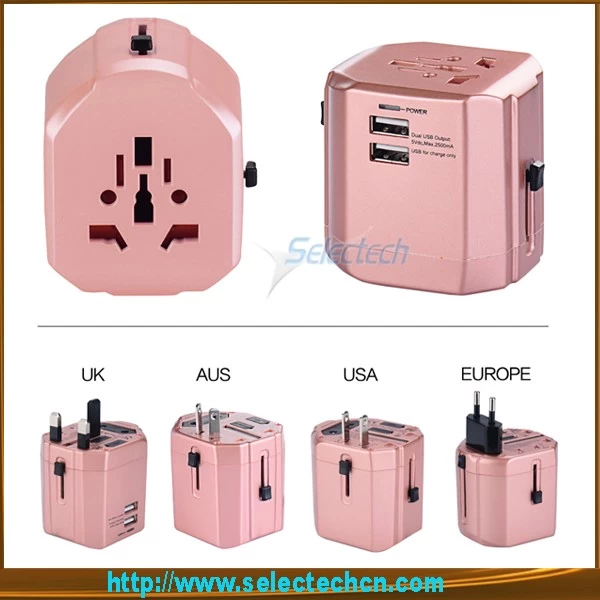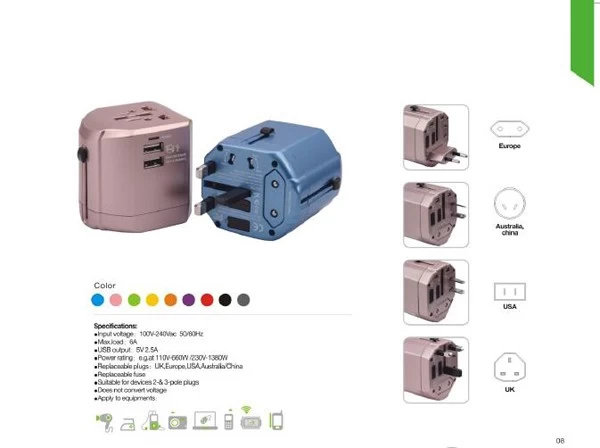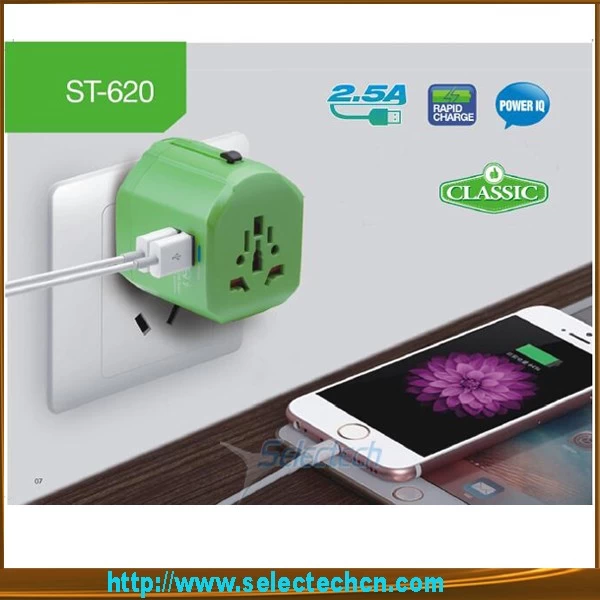 PE bag+white box
CTN QTY : 100pcs/cn
GW:    15.00kgs                         
N.W.:  14.50 kgs
Size.:   40.5*31.5*31cm 

ODM&OEM is welcome, as per our MOQ:1Kpcs request. We can customize color and packing,
sticker ect. More details, welcome to contact us!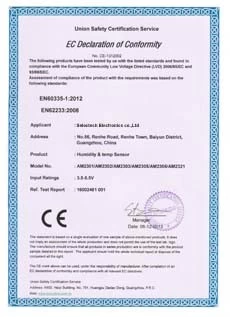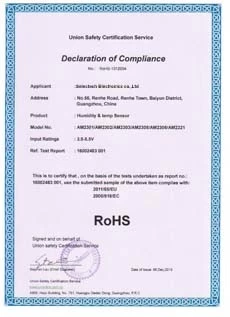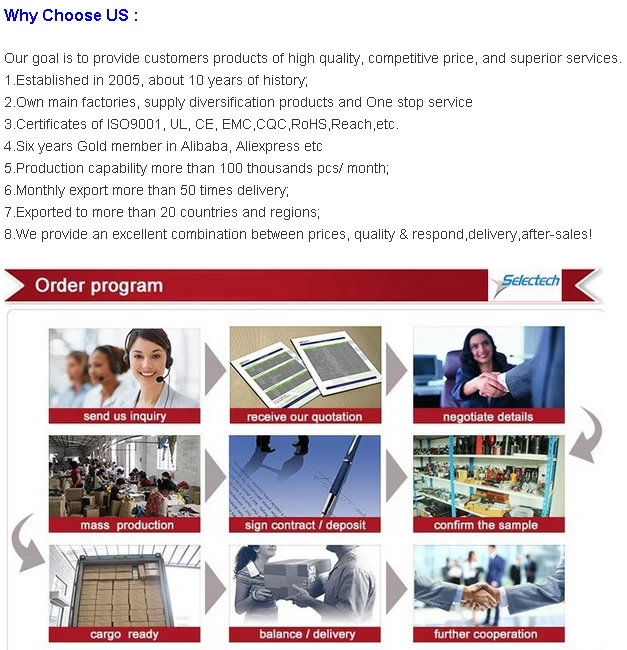 SELECTECH ELECTRONICS CO., LTD
Tel:0755-83234282
Contact Person:daisy
PDF Show:PDF
Other Products